Brussels all-in discovery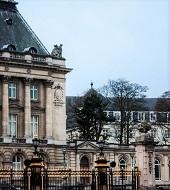 Master the Belgian culture with this informative walking tour which combines all the "must-do" of Brussels that every tourist needs to check.
From city attractions to beer, chocolate, waffle and food, this is the ultimate solution to discover everything Brussels has to offer in a matter of 4hours. This is one tour where you get real value for your money.
Highlights:
3.5 hours guided tour
Get a taste of mussels, frites, waffles
Other dishes availble (Beefstew, Waterzooi)
Sample Belgian beers and chocolates
Venture past the Grand' Place, Royal Galleries, Manneken-Pis
Commentary available in English and French
Available:
Wednesdays (Feb-Dec)
Fridays (Feb-Dec)
Saturdays
Start time: 13:00
Duration: 3.5 hours
Meeting point: Grand Place Square 21, 1000 Brussels, Belgium, before the Godiva chocolate shop.

Send by email